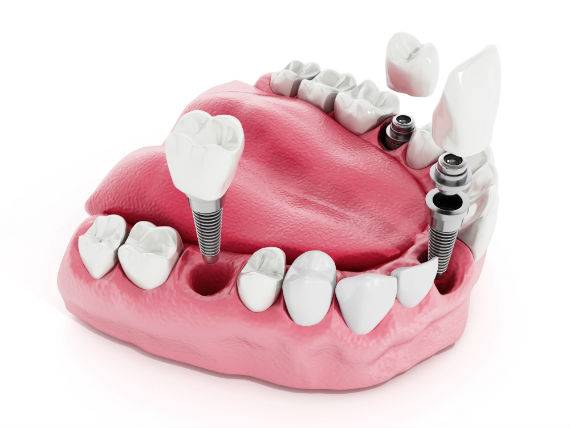 Dental implants are small titanium posts that are surgically placed into the jawbone where teeth are missing. These metal anchors act as tooth root substitutes. The jawbone then bonds with the titanium posts, creating a strong foundation for artificial teeth. On a follow up visit, your oral surgeon will place the caps onto the dental implant post, which will complete the process of having a dental implant placed.
Once you have your dental implants in place, you can return to normal life, including eating any sort of foods you'd like, smiling in photos and not having to maintain dentures. Your dental implants look and act just like natural teeth.
Types Of Dental Implants
With improvement in preventive dental health, fewer people are losing their teeth and requiring complete dentures. However, many people will lose a single tooth or a few teeth for a variety of reasons. The best way to replace missing teeth is with an implant restoration. With advancing technologies in implant design, biomaterials, surface biology, hard and soft tissue grafting, computed imaging, computer planning, and 3-D printing, the function, esthetics, and maintenance of dental implants are superior to other methods for restoring missing teeth.
Thanks to new surface technology and implant design, implants can now be immediately restored into a full tooth in some cases. Our surgeons use Osstell ISQ, a device that uses ultrasound to measure implant stability to make sure your implant has been placed in solid bone and to determine when early loading is safe. In some cases, it's even possible to extract a damaged tooth, place an implant and restore the missing tooth in the same day!
For patients who have lost all of their teeth, we are now able to restore entire mouths with new teeth thanks to advancing implant technology. With full mouth dental reconstruction, our surgeons work with your dentist or prosthodontist to create a new smile that improves your dental esthetics, speech, eating, and facial form.
Implant Retained: For patients with dentures that often fall out or don't seal well, we can implant a denture with locators. Implant retained dentures can help keep the dentures from moving excessively and falling out. Requiring as few as two implants, these dentures are simpler to make. However, as the dentures still rest on the gums, chewing efficiency is not much different from regular dentures.
Implant Supported: When the primary goal is to restore the strength and efficiency of chewing, an implant supported denture is required. By creating a denture that directs force solely through the implant to the bone, chewing efficiency is able to reach levels of natural teeth.
Fixed dental implant bridges are bridges that are directly screwed into the implants. These are ideal for patients without much bone loss and where the smile line doesn't show the transition between bridge and the natural gums.
Fixed hybrid dentures are screwed into the implant directly. Unlike fixed dental implant bridges, fixed hybrids are made of materials similar to dentures, allowing them to stand in for missing bone, gum tissue, and teeth. However, they do require the patient to have at least enough bone so that the plastic material does not wrap around gums, making the dentures difficult to clean. Fixed hybrid dentures work best with patients with high smile lines.
Removable implant supported overdentures use standard denture materials with attachments that clasp onto a titanium bar attached to implants. Removable and easy to clean, these are best for long-term denture wearers who have had substantial bone loss.
All-on-four or "teeth in a day" consists of using the bone on the front part of either jaw to support a fixed denture by placing four implants. For many patients, careful preoperative planning can result in implants that are stable enough to be immediately loaded. A dentist or prosthodontist can then install the previously designed denture on the same day as surgery, resulting in "teeth in a day."
Zygomatic implants are a cutting-edge solution for replacing all the upper teeth with a fixed prosthesis for patients who otherwise would not be candidates for traditional dental implants. In cases where the patient's upper jaw ridge has atrophied, zygomatic implants may be the answer. Used by just a few specially trained surgeons, zygomatic implants allow us to bypass the area of bone atrophy by placing the implants directly onto the zygoma—the cheekbone. The cheekbone is a reliable place for these implants and allows for the fixed upper denture to be anchored securely. Zygomatic implants are usually placed in a single operation under general anesthesia.
This technique avoids the need for lengthy treatment plans involving multiple surgical stages and major bone grafting procedures. In many cases, our doctors, coordinating with your dentist or prosthodontist, can place the implants and have a temporary set of teeth secured the very same day. Our doctors are experts in zygomatic implant surgery and have treated many patients from throughout the Pacific Northwest and elsewhere. If you have been told that you don't have enough bone in your upper jaw for implants, zygomatic implants at HNSA may be your single-stage answer.
Head & Neck Surgical Associates
Average rating:
0 reviews