Portland Oral Surgery Specialists
Wisdom & Impacted Tooth Removal
Our Portland-based oral surgeons are all board-certified medical and dental professionals with extensive experience performing advanced oral surgeries including wisdom teeth & dental extractions, jaw alignments, & trauma reconstructions.
With advanced training and residencies specializing in oral cavity conditions and associated systemic disease, our oral surgeons perform both routine and highly complex dental procedures for our patients.
What To Expect
When consulting with our oral surgeons regarding wisdom teeth and other impacted teeth, we will provide you any options and recommended treatments for the current alignment and any recommended procedures for the future alignment of the teeth. On your first visit, our oral surgeons will X-rays and then discuss with you your options for treatment. In general, the wisdom tooth is not a critical tooth to have, and keeping them can cause teeth crowding, infection and oral problems down the line. Most oral surgeons will recommend the removal of any impacted teeth, buy your situation may vary. Consult with one of our highly-experienced oral surgeons today to learn more about your options.
Preventing More Serious Conditions Down The Road
The typical person is born with 4 wisdom teeth, but about 25% of the population is born with less than 4 wisdom teeth, due to their genetic makeup. For most people, the eruption process occurs in the late teens or early twenties, around high school and college for most kids.
When wisdom teeth are aligned properly and the gum tissue is healthy, they do not need to be removed. Unfortunately, this is rarely the case. The extraction of wisdom teeth is necessary when they are prevented from erupting properly within the mouth—partially erupted or impacted teeth can cause many problems including excess bacteria and infection.
Through an oral examination and x-rays of the mouth, our surgeons are able to evaluate the position of wisdom teeth and predict if there may be present or future problems. Patients are typically evaluated as teenagers and early removal is recommended to avoid future problems and decrease surgical risk.
Types Of Tooth Extraction
Severely broken down teeth, impacted teeth, teeth located in dense bone, teeth that have had prior root canal therapy, and teeth that are fused to the bone most often require surgical extraction. The recovery for surgical extraction is characterized by oozing, pain, and swelling. These symptoms typically subside within 1-3 days.
There are several types of single tooth impactions, from soft tissue impaction (penetrate the bone but not the gum) to full bony impaction (the tooth is fully encased by bone).  In between there are many degrees of impaction, some of which require little to no surgery, and other cases requiring a more complex procedure.
Wisdom Tooth Removal Benefits
Wisdom tooth removal is most commonly performed during the teenage and young adulthood years, typically from 16-25. The benefit to removing wisdom teeth at this age becomes all the avoided problems wisdom teeth and impact teeth can cause. Wisdom teeth tend to grow later in life, once the adult teeth have already come in, and this causes crowding that can lead to crooked teeth, infections, and a multitude of other oral complications. It's just easier to remove these teeth entirely and avoid the issues down the line.
Impacted Teeth Impact Life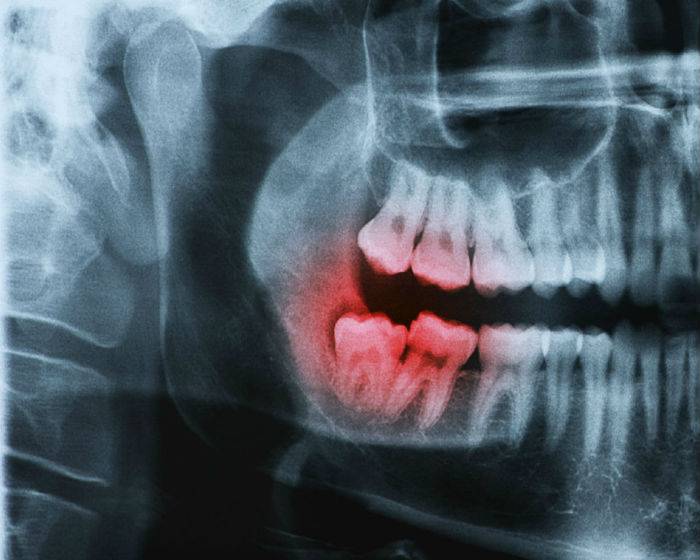 It may seem easy to ignore an impacted tooth, but over the long term, wisdom teeth can lead to issues such as:
Jaw swelling
Bleeding gums
Crooked teeth
Bad breath due to infection
Loss of bone and/or supporting tissue
Loss of healthy teeth
Most of the time, we see patients that have the first symptoms of an impacted tooth. However, the best way to prevent these issues from occurring is to visit an oral surgeon in your area to find out the impact these teeth can have on your oral health.